Peppery, garlicky, and spicy, Cajun seasoning is a bold blend of spices and herbs that will bring the heat to any dish you sprinkle it into. Made in just 5 minutes, you'll want to keep this delicious seasoning blend in your cabinet at all times.
Do you love spicy food and want a simple, but delicious way to add bold, spicy flavor to any savory dish you make?
Look no further than this easy homemade Cajun seasoning blend. It's spicy, yet full of sweet, earthy, and bold flavors.
Cajun seasoning is amazing on pan-seared or grilled chicken, shrimp, catfish, and pretty much any other meat or seafood. Sprinkling it onto roasted or grilled vegetables is also a must-try. My favorite dishes to make using this seasoning blend are Cajun Salmon Pasta and Cajun Salmon Tacos.
I especially love making my own Cajun seasoning because it allows me to better control the amount of salt that goes into it. I'll normally make a big batch to keep on hand since spice blends can last for years if stored properly.
So, if you're interested in spicing up your life and making this Cajun seasoning for yourself at home, keep reading below to learn how.
Disclaimer: Some links throughout this post are affiliate links. As an Amazon Associate, I earn from qualifying purchases. You can learn more by visiting my Affiliate Disclosure Page.
What is Cajun Seasoning?
Cajun seasoning is a spice mix that is predominately made from a variety of ground chili peppers, peppercorns, and dried herbs. It's spicy and is used widely in Cajun-style cuisine, which has its roots in the Southern state of Louisiana.
Why You'll Love This Recipe
Lower Sodium- Making spice blends at home is an easy way to control exactly what goes into it. This is especially true for salt. Many store bought spice blends contain high amounts of sodium, which can cause trouble for those with high blood pressure. This recipe only contains 148 milligrams of sodium per teaspoon.
Perfectly Spicy- While I can tolerate a decent level of spice, I'm not one of those people who enjoy sweating while I eat spicy food. This Cajun seasoning blend is spicy, but not overwhelmingly so, in my opinion. Plus, the spice is balanced well with the sweetness from the onion and garlic powder, the herbaceous notes from the oregano and thyme, and a touch of salt.
Delicious on Everything- Once you try this bold, flavorful seasoning, you're going to want to start adding it to everything. It's delicious on all kinds of meats, seafood, eggs, and vegetables. Get creative!
Ingredient Notes
Here are some notes on key ingredients. For a full list of ingredients, check out the recipe card below.
Paprika- Made from ground red chili peppers, paprika tends to be milder than cayenne pepper. While there are many varieties such as smoked or hot paprika, I typically use regular paprika in this recipe.
Cayenne Pepper- Another red chili pepper, cayenne is significantly spicier than paprika. Cayenne pepper is what primarily makes Cajun seasoning spicy.
Black Pepper- One of the more commonly used spices in the world, black pepper gets its heat from a compound called piperine. I prefer to use freshly ground black pepper in my Cajun seasoning blend for a more intense black pepper flavor.
White Pepper- Interestingly, white pepper actually comes from the same plant as black pepper. The difference is how the pepper berries are picked and processed. White pepper tends to be less spicy than black pepper because the skin of the berry, which contains the piperine, is removed.
Oregano- One of the few herbs used in Cajun seasoning, oregano has a slightly bitter, earthy, and pungent flavor. Dried oregano, which is what I use in this recipe, has a more intense flavor than fresh.
Thyme- Another herb frequently used in Cajun seasoning is thyme. Thyme has a unique, earthy, slightly flowery taste. Many recipes call for dried thyme, which may also be used. I used ground thyme in this recipe because it's what I usually have on hand.
Salt- Of course, salt is a staple ingredient in any seasoning blend because it is an excellent flavor improver. Salt balances out the bitter flavors of food while enhancing the sweetness.
Step by Step Instructions
This low-sodium Cajun seasoning recipe could not be any easier to make. Seriously. It's only one step!
Step 1: Measure and mix. Measure all ingredients and add them to a small mixing bowl. Stir well to combine. Use immediately or store in a spice jar to use later.
Variations
Salt-Free- For a salt-free seasoning blend, simply leave out the salt. Using a salt-free variety will allow you to control the salt easily in any recipe you want to use this blend in.
Smoky- Especially tasty on Cajun-style ribs, a smoky Cajun seasoning blend can be made by swapping out the paprika for smoked paprika. You can use Cajun seasoning with smoked paprika in any recipe you would use regular Cajun seasoning in.
Extra Spicy- Can't get enough spice? Bump up the cayenne pepper in this recipe to 1 tablespoon or add in some red pepper flakes.
Mild- If you're sensitive to spicy foods, you can decrease the cayenne pepper to ½ to 1 teaspoon. You can also halve the amount of black pepper and white pepper if desired.
How to Use Homemade Cajun Seasoning
Cajun seasoning tastes delicious in so many dishes. Traditional Cajun dishes that make use of this spice blend include jambalaya, gumbo, po-boys, boiled crawfish, and shrimp and grits.
Here are a few of my favorite ways to use this spicy homemade seasoning.
Used to make blackened chicken, salmon, swordfish, shrimp, or tofu
As a spice rub on Cajun-style ribs
Sprinkled over scrambled eggs
Mixed into buttered rice
On roasted, air fried, or sautéed vegetables
In dips like hummus, guacamole, or queso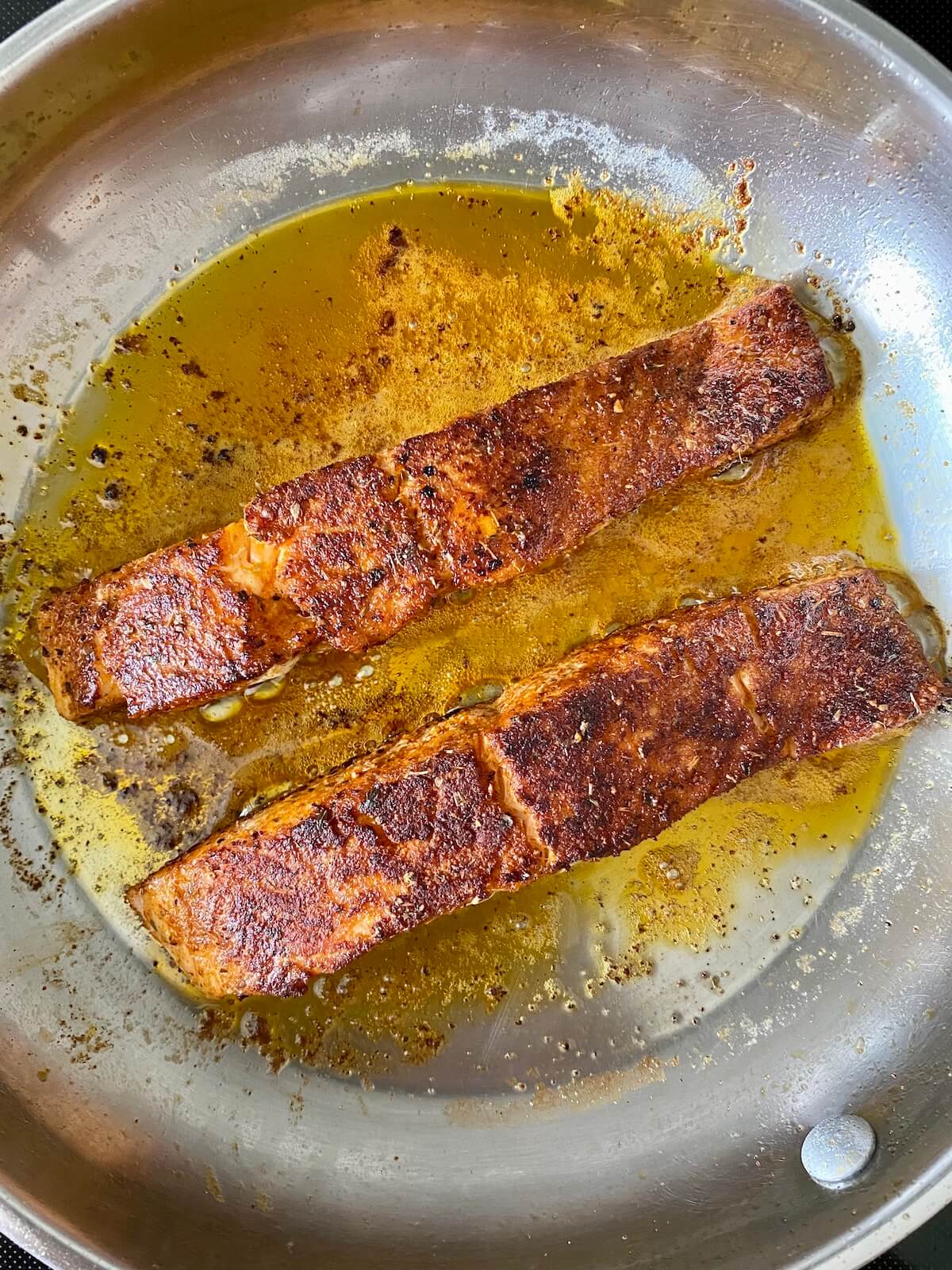 Storage
Store homemade Cajun seasoning in a glass spice jar, a sealable plastic bag, or in an airtight container in your spice cabinet or pantry. If kept in a cool, dry location, this spice blend should last for 1 to 3 years.
Frequently Asked Questions
What is a good substitute for Cajun seasoning?
Need a spicy, Cajun vibe for your recipe, but don't have all of these spices on hand? A 6:2:1 combination of chili powder, dried thyme, and cayenne pepper should taste similar in a pinch. For example, 6 teaspoons of chili powder, 2 teaspoons of dried thyme, and 1 teaspoon of cayenne pepper.
What is the difference between Cajun seasoning and Creole seasoning?
The main difference between Cajun and Creole seasoning is the blend of spices and herbs used to make each. Cajun is more pepper-forward, while Creole generally contains a higher ratio of herbs. To learn more about the differences between these two spicy blends, check out this article.
Where does Cajun spice originate from?
Cajun cuisine hails from the Southern United States, primarily in the state of Louisiana. This rustic, spicy cooking style originated from a group of people known as the Acadians. During the 18th century, the Acadians fled to Louisiana from Canada and learned how to adapt their cooking to what was available locally.
More Seasoning Blend Recipes
📖 Recipe
Cajun Seasoning
Peppery, garlicky, and spicy, Cajun seasoning is a bold blend of spices and herbs that will bring the heat to any dish you sprinkle it into. Made in just 5 minutes, you'll want to keep this delicious seasoning blend in your cabinet at all times.
Ingredients
2

tablespoons

paprika

1 ½

tablespoons

oregano

1

tablespoon

garlic powder

1

tablespoon

onion powder

½

tablespoon

salt

2

teaspoons

cayenne pepper

2

teaspoons

black pepper

freshly cracked

1

teaspoon

white pepper

ground

1

teaspoon

thyme

ground
Instructions
Measure all ingredients and add them to a small mixing bowl. Stir well to combine. Use immediately or store in a spice jar to use later.

2 tablespoons paprika,

1 ½ tablespoons oregano,

1 tablespoon garlic powder,

1 tablespoon onion powder,

½ tablespoon salt,

2 teaspoons cayenne pepper,

2 teaspoons black pepper,

1 teaspoon white pepper,

1 teaspoon thyme
Notes
Store in a cool, dry location for 1-3 years.
Nutrition
Serving:
1
teaspoon
|
Calories:
6
kcal
|
Carbohydrates:
1
g
|
Sodium:
148
mg
|
Potassium:
29
mg
|
Fiber:
0.5
g
|
Vitamin A:
17
IU
|
Calcium:
8
mg
|
Iron:
0.3
mg