Want to know the best tomato for burgers? This article covers 8 types of tomatoes and how to prepare them for your next burger night.
With thousands of varieties to choose from, how do you know which tomato is the best tomato for burgers?
Tomatoes come in a wide range of sizes, colors, textures, and different flavors. Some tomatoes are best enjoyed raw, while others are fantastic for roasting or grilling. Then, you have the notable difference between a garden-fresh tomato and a store-bought tomato.
So, what is a burger enthusiast to do? Experiment, of course!
Personally, I think the overall best tomato for burgers is a homegrown beefsteak tomato. They're large, meaty, and deliciously juicy. Plus, there are several different varieties to choose from - some of which are super easy to grow in a home garden.
So, if you're interested in upping your burger-topping game, keep reading to learn all about how to choose the best tomato for your next burger.
>> Need a good burger recipe? These Turkey Smash Burgers and these Air Fryer Turkey Burgers are two of my favorite burger recipes.
Some links throughout this post are affiliate links, which means I earn a small commission at no extra cost to you. If you're willing to use them, it helps fund this site and allows me to continue to provide content. I appreciate your support!
Best Tomato for Burgers
Here is a list of the 8 best tomatoes for burgers.
1. Beefsteak
Large, meaty, and juicy, beefsteak tomatoes are one of my favorite tomatoes for burgers. They are great slicing tomatoes and are very easy to cut into beautiful thick slices. Plus, they hold their own against a hamburger patty without overpowering the flavor.
Beefsteak tomatoes are sold as red beefsteaks and green beefsteaks. The Beefmaster tomato is the red hybrid variety that you'll typically find on grocery store shelves. However, some heirloom varieties, such as the Brandywine tomato or Black Krim tomato, are easy to grow at home.
Varieties- Beefmaster, Brandywine, Cherokee Purple, Black Krim, Mortgage Lifter, Pink Caspian
Flavor- Mild and slightly sweet
How to Prepare and Serve- Raw, sliced thick with a sharp knife or on a mandolin. Beefsteak tomatoes are the best tomatoes for hamburgers and cheeseburgers.
2. Heirloom
Heirloom tomatoes are non-hybrid varieties of tomatoes. These heritage cultivars can include beefsteak tomatoes, plum tomatoes, cherry tomatoes, and grape tomatoes. Often, you will only find heirloom tomatoes at farmers' markets or in your own garden.
My favorite heirloom tomatoes for burgers are the beefsteak varieties. Just like hybrid beefsteak tomatoes, heirloom beefsteak tomatoes are large, have a meaty texture, and are wonderfully juicy. However, heirloom varieties are often sweeter and more flavorful than their hybrid counterparts.
Varieties- Brandywine (Beefsteak), Black Krim (Beefsteak), Pink Caspian (Beefsteak), Amish Paste (Plum), Black Cherry (Cherry)
Flavor- Sweet, rich tomato flavor
How to Prepare and Serve- Cut heirloom beefsteak tomatoes into thick slices using a sharp knife or mandolin. Their wonderful flavor makes them the ideal sandwich tomato and perfect for enjoying raw.
3. Plum (Roma)
Roma tomatoes are one of the most common varieties of plum tomatoes. They are easy to find at most grocery stores and are super easy to grow at home. Often used to make tomato sauce and salsa, Roma tomatoes are meaty and have fewer seeds than other types of tomatoes.
Most plum tomatoes have a tangy, intense tomato flavor. They are slightly more acidic than some of the other tomato varieties on this list.
Varieties- Roma, Amish Paste, San Marzano, Speckled Roman, Orange Banana
Flavor- Tangy, acidic, intense tomato flavor
How to Prepare and Serve- Slice or dice Roma tomatoes and enjoy them raw. Alternatively, turn them into salsa, pico de gallo, or homemade ketchup for your burger.
Quick Tip: Take burger night to the next level with the Best Onions for Burgers and the Best Lettuce for Burgers.
4. Cherry
If you've ever grown cherry tomatoes in your garden, you know how prolific and easy to grow they are. These sweet, juicy, and snackable little tomatoes are ideal for eating raw, roasting, or grilling on a skewer.
One of my favorite ways to enjoy cherry tomatoes on a burger is to roast them and add them to a Caprese-style turkey burger with mozzarella cheese and basil.
Varieties- Black Cherry, Sungold, Sweeties, Indigo Cherry Drop, Rosy Finch
Flavor- Sweet, juicy, concentrated tomato flavor
How to Prepare and Serve- Dice raw, roast, or skewer and grill them. Cherry tomatoes pair well with a Caprese-style burger.
5. Grape
Similar in size to cherry tomatoes, grape tomatoes are slightly smaller and more oval-shaped. Grape tomatoes are chewy, meaty, and have thick skin, making them ideal for roasting and grilling. They are also delicious when served raw in salads.
Varieties- Golden Sweet, Five Star Grape, Nova, Red Pearl, Valentine, Santorange
Flavor- Sweet, rich, meaty, and crunchy
How to Prepare and Serve- Add roasted or grilled grape tomatoes to your burger. Alternatively, make a cheeseburger salad wrap with diced grape tomatoes.
6. Campari
Campari tomatoes are often found on grocery store shelves still attached to their vine in small clusters. These "tomatoes-on-the-vine" are a hybrid variety that is round, has a red color, and is medium-sized.
Sometimes referred to as cocktail tomatoes, Campari tomatoes are known for being juicy and sweet with low levels of acidity. They are also less mealy than other varieties of tomatoes. These little globe tomatoes are versatile and can be enjoyed raw, roasted, or cooked into sauces and salsas.
Varieties- N/A
Flavor- Sweet, high sugar content, low acidity
How to Prepare and Serve- Campari tomatoes are versatile. Cut them into slices and add them raw on top of your burger. Or roast them for a richer, sweeter flavor. Better yet, turn them into tomato sauce and get creative making a pizza burger.
7. Sungold
Technically a variety of cherry tomatoes, the Sungold tomato is an extra sweet and delicious tasting tomato.
These golden orange tomatoes are easy to grow at home in your garden. Plus, they add a beautiful pop of color to any burger. My favorite way to enjoy Sungold tomatoes is marinated and served on top of a Mediterranean-style chicken burger.
Varieties- N/A
Flavor- Extra sweet, juicy
How to Prepare and Serve- Dice raw and add to a summer-inspired burger or make a marinated tomato salad to serve alongside your burger. Sungold tomatoes are also excellent roasted or grilled on skewers.
8. Sun-Dried Tomatoes
Sun-dried tomatoes pack intense tomato flavor in a small bite. Whether you buy the jarred variety or make them yourself at home, sun-dried tomatoes make a fabulous burger topping or mix-in. You can also make a homemade sun-dried tomato aioli to use as a burger condiment.
Varieties- N/A
Flavor- Rich, intense, savory, concentrated tomato flavor
How to Prepare and Serve- Dice small and mix into burger meat or sprinkle on top of a cooked Mediterranean-style burger. Alternatively, use the oil they are packed in to make a homemade sun-dried tomato aioli.
Why Add Tomato to a Burger?
If you don't often add tomatoes to your burger, you may be wondering what tomatoes add to a burger anyways. Here are a few reasons why tomatoes make a wonderful burger topping.
Flavor- Tomatoes are sweet and mildly acidic, which contrasts nicely with the rich and meaty flavor of a burger patty.
Moisture- A good tomato is ripe and juicy. The juiciness from a fresh tomato adds moisture to a burger. Moisture can be especially helpful if your burger is slightly dry or overcooked.
Texture- Depending on the type of tomato you choose, tomatoes can add some much-needed texture to an otherwise soft burger. Grape tomatoes, for example, add a delicious crunch, while sun-dried tomatoes are thick and chewy.
Color- Last but not least, tomatoes add a lovely pop of color to a burger. Most tomatoes you find at the grocery store are red. But, if you grow your own tomatoes, you can grow tomatoes that range in color from green to purple to yellow.
How to Prepare Tomatoes for Burgers
There are a variety of ways to prepare tomatoes for burgers.
Of course, raw sliced tomatoes are the most common preparation method. But, you can also roast or grill tomatoes before adding them to your burger. Additionally, turning tomatoes into condiments such as ketchup, salsa, tomato sauce, and aioli is a fun way to get creative with your burger toppings.
How to Cut Tomatoes for Burgers
Here is how to cut tomatoes into slices for a burger.
Step 1: Clean the tomatoes. Start by removing the tomato stems, if still attached. Then, rinse the tomatoes under cool, running water to remove any dirt, dust, and pesticides. Pat them dry with a clean kitchen towel or paper towel.
Step 2: Slice the tomatoes. Place the tomato on its side and remove the top of the tomato where the stem used to be. Then, using a sharp chef's knife, make parallel cuts down the tomato towards the bottom. The slices can be as thin or as thick as you like them. Alternatively, use a mandolin to achieve uniform tomato slices.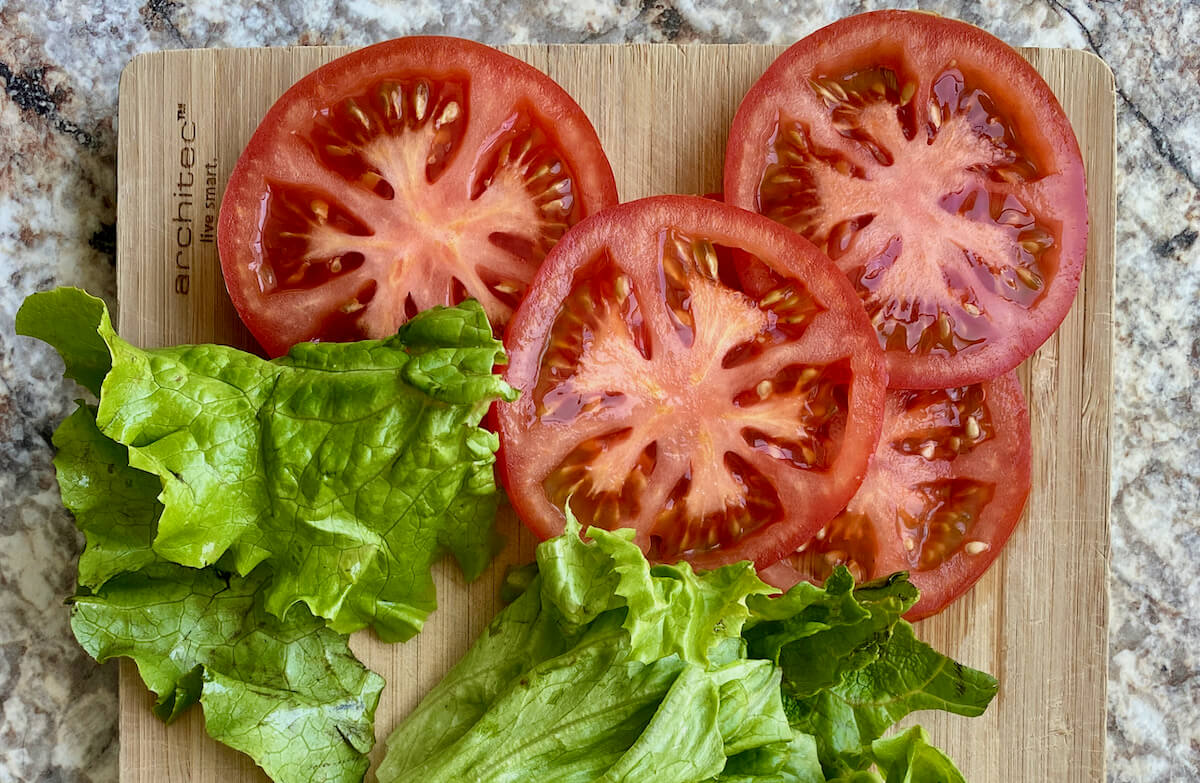 Can Tomatoes for Burgers be Prepared Ahead?
If you're planning for a large cookout or backyard BBQ, you may be wondering if you can prepare the tomatoes ahead of time.
Well, you're in luck! Because fresh-cut tomatoes can be stored in an airtight container or plastic bag for up to 3 days in the refrigerator. Keep in mind, however, that the longer they are stored, the mealier they become.
Frequently Asked Questions
Are Roma tomatoes good for burgers?
Yes, Roma tomatoes are meaty and flavorful and make for a wonderful burger topping. Try them sliced, diced, or turned into salsa, ketchup, or tomato sauce.
Are heirloom tomatoes good on burgers?
A beefsteak heirloom tomato is the best tomato for burgers and sandwiches. Not only are they sweet and juicy, but they're also the perfect size for a burger. Cut these delicious tomatoes into thick slices for burger-topping heaven.
Which tomatoes are the meatiest?
Beefsteak tomatoes are among the meatiest tomatoes you can grow or buy. Their large size, hearty texture, and mild flavor make them the best tomato for burgers. Cut raw beefsteak tomatoes into thick slices and enjoy the pop of color and freshness on your next burger.
Which tomato has the best flavor?
Several varieties of heirloom beefsteak tomatoes are known for their exceptional flavor. Brandywine, Cherokee Purple, and Black Krim are the perfect balance of sweet and acidic. Additionally, San Marzano tomatoes are also praised for their sweet, low-acid flavor profile.
What is the best homegrown tomato for burgers?
The best homegrown tomato for burgers is any variety of heirloom beefsteak tomatoes. Try growing Brandwine, Black Krim, or Cherokee Purple tomatoes in your garden this summer to experience the delicious flavor of these garden-fresh tomatoes for yourself.
Conclusion
As you can see, tomatoes of all kinds can make a delicious burger topping.
In my experience, garden-fresh tomatoes of any variety are the best burger tomatoes. But, especially a big, juicy, and sweet beefsteak heirloom tomato. All in all, which tomato is best for your burger comes down to taste preference, the type of burger, and what is available to you locally.
Let's Connect!
Be sure to leave a comment below if you have any questions. You can also connect with me on Instagram, Facebook, Pinterest, or via email at [email protected].
More About Burgers